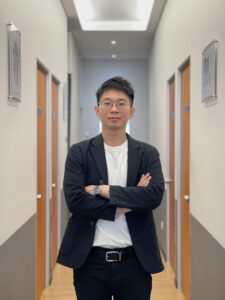 Dc. Alex Ch'ng aims to introduce the new concept of health to the public through specific Chiropractic care. He believes that merely absence of disease does not define health. To him, a healthy person should also be able to function properly without pain either physically or mentally which can be achieved by Chiropractic care.
His communication skills will make you feel at home during consultation and his explanation skills will make you understand more about your pain like never before. He has incredible patience towards elderly.
If you are an elderly, love to ask questions, prefer speaking in Hokkien, he will be your best choice.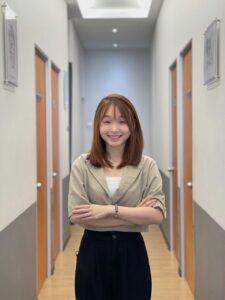 Dc. Cheng Lai Yie is passionate in helping people that lives in pain. Her mission is to help people to improve overall functions and health. As a mother, she enjoys providing care to babies and children to maximize their growth and developments through Chiropractic care. She is also keen to help pregnant ladies and mothers as she understands the challenges and pains they faced while expecting and taking care of a child.
By understanding the power of nervous system and how it affects the brain development of child, she helps children with special needs such as ADHD, autism, hypoactive, speech delayed and etc to function better and live a better life!
Surprise! She is also a certified yoga instructor. Don't be cheated by her size, you will be amazed by her strength and skills!
Mothers? Pregnant ladies? Children? Babies? She will be your best choice.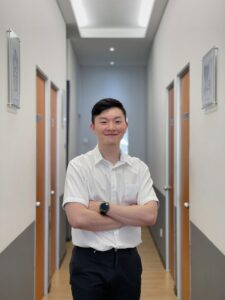 Dc. Wong Jia Mun is passionate and dedicated to the well-being of his patients. His goal is to provide specific chiropractic care to all those who are in need. His passion and interests in sports injuries brings him a step closer to helping those that need specific chiropractic care.
His caring and detailed personality will make sure that you understand your condition well and ensure that you will have all the knowledge to prevent future occurrence of your conditions. He believes that spinal care is not a choice, it is a lifestyle and choosing so will benefit you for the rest of your life. 
He is also a gym enthusiast, so if you're a fitness junkie looking for a chiropractor to understand your gym session complains, he is the chiropractor for you.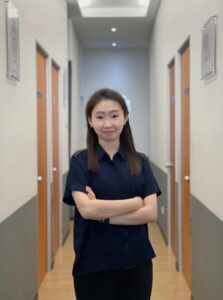 Knowing that most people in the society suffer from postural issues due to modern lifestyles, she aims to help people in this aspect by providing not just suitable treatments, but also with proper postural and ergonomic advices to help minimise damage to our spine that may be originating from our daily activities. 
Dc. Julie has a special interest in scoliosis as she believes that chiropractic care can help reduce the risk of progression of scoliotic curve when the spine is functioning in its optimal condition. Besides, she can also help with any pain and discomfort that presents along with scoliosis. Most of all, she would provide you the necessary advices to maximise the recovery. She insists on detailed history taking and care as she believes that it'll help with patients' recovery.
She has a knack for helping with upper back pain as well as communicating through complains with young adults.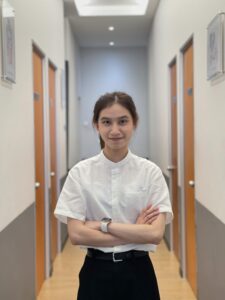 As a chiropractor, Dc. Wong Wei Shen always cares and listens carefully to her patients' complaints and their overall well-being. Her aim is to find out the root cause of the pain and provide a specific correction to restore the optimal function of the nervous system. At the same time, she also provides suitable advice to her patients under her care and brings up awareness about the importance of taking good care of the spine.
She believes that chiropractic care along with self-awareness of our health can help to minimize injuries and improve the quality of life. She has the best communication towards youngsters and also middle-aged adults. Treating upper/lower back pain is her forte!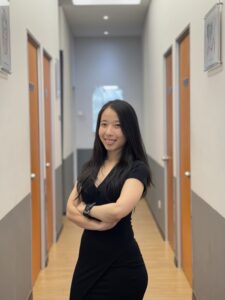 Monica Kok has a background in Physiotherapy & Sport and Exercise Science. She started out as a personal trainer, focusing on strength and conditioning, proper lifting forms and fat loss programs. Through her experiences as a trainer, she found her passion in rehabilitation. With this, she's provided physiotherapy care for body builders, sportsmen and sedentary people.


Her area of specialty mainly involves musculoskeletal injuries, sports injuries and geriatric care. Her goal is to educate people on proper forms of exercise, catered to their individual needs for a better quality of life. She believes that our bodies are machines that require maintenance. Maintenance in a form of exercise to improve the functions of our muscular system and Deep Tissue Therapy for muscle relaxation and rejuvenation.